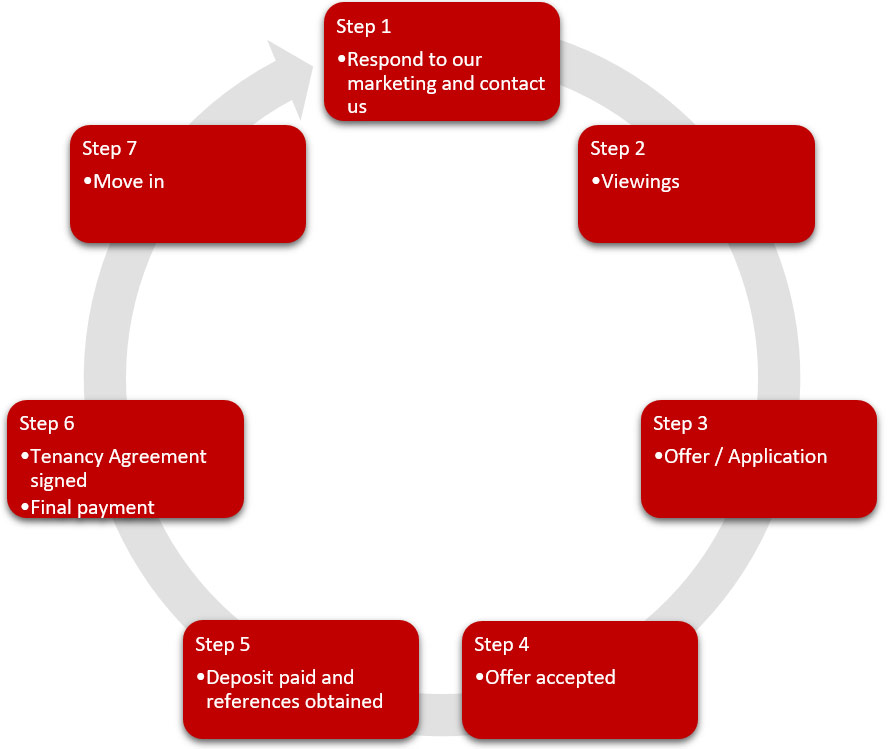 Tenants
Soul Estates aims to make letting a property as easy and as straightforward as possible.
Once you have found a suitable property through Soul Estates we will advise you of the relevant charges to ensure it's affordable. We will set out the terms prior to you signing your tenancy agreement.
Here are some points to consider when finding the right property to rent:
FINDING A PROPERTY
Our staff are specially trained and equipped to assist tenants to find properties to rent that will meet their needs. As properties become available, our first action is to contact awaiting tenants on the database whose requirements match the property.
Typically, properties to rent become available about two months before occupancy date, so where possible it is advisable to start looking early.
VIEWINGS
When a potentially suitable property is available we will arrange a viewing for you to see the property. This will be at a date and time to suit you (subject of course to the Landlords permission). All viewings will be accompanied by a member of Soul Estates, who will be able to provide advice and answer any questions you may have.
OFFER / APPLICATION
Once you have decided on a property you will need to complete an application form. During this stage, any details or requirements can be provisionally agreed, such as occupancy date and duration of the letting, etc.
REFERENCES
As part of your application you will be required to submit references, along with the following information:
3 years address history
Employment details (if self-employed, accountant details or 3 years of accounts)
Current / previous Landlord details
Photo id (passport/driving licence)
Proof of residency (not older than 3 months)
If you are unable to meet the required income or credit checks, you may have a Guarantor agree to underwrite any rent liabilities.
ELIGIBILITY
You must be in full-time permanent employment and earn 30 x the monthly rent per annum.
You must have a good credit history with no county court judgments or have been declared bankrupt within the last 6 years.
Please Note - All tenants 18 and over are required to have a full reference check.
RENT
This is normally quoted on a calendar month basis. In addition, you the tenant is usually responsible for Council Tax, Water Rates, Gas, Electricity and Telephone costs.
Rents are payable by standing order to Soul Estates account monthly in advance, with the first month's rent due before taking occupation of the property.
DEPOSIT
A deposit (or 'bond') is required prior to occupying the property. This is equal to one month's rent but may vary according to landlord requirements. Where we are managing the property, this deposit will be either be held by Soul Estates and covered by insurance or forwarded to the government authorised custodial body. We will inform you in writing which scheme is used. Where we are not managing the property any tenancy deposit which is required will be taken by the landlord directly.
The deposit is held to cover any breakages, damage, rent arrears or other tenant liabilities. Where we are managing the property, at the end of the tenancy we will check the property in the presence of the tenant and assess any damages and make deductions if required.
Please Note - That the deposit cannot be used by the tenant to cover rent.
ADMINISTRATION / AGENCY FEES
A fee is due at the start of the tenancy which will cover the tenant's share of the administration costs. This includes preparation of the tenancy agreement, any legal notices, referencing and credits checks.
Where an Independent Inventory agent is used there may also be a fee from the Inventory agent for the check-in process.
If you require any further information please do not hesitate to contact us.
Landlords
Letting a property can be a smart investment, just as long as you research the market and seek expert advice. Our Soul Estates agents are trained to give you just that, helping you make informed decisions. Our agents are based locally to your property and many are landlords themselves, so they fully appreciate your concerns when it comes to renting your property.
LETTING YOUR PROPERTY
Soul Estates will visit your property and discuss with you an appropriate letting fee for your property. We will also provide you with tips to improve your property if you wish to gain maximum rental income. We will also take professional photos and gather relevant information needed to advertise your property.
We operate a No Let – No fee policy.
ADVERTISING AND FINDING THE RIGHT TENANT(S)
We will place a 'For Let' board outside your property and advertise your property on our website as well as other leading property search portals to find you a suitable tenant(s).
We also maintain a database of potential tenants and will contact those whose requirements match your property.
VIEWINGS
Once potential tenants have been found, accompanied viewings will be arranged to view your property.
TENANT APPLICATION PROCESS
Now that we have found a suitable tenant(s) for your property we will complete the following prior to the tenant occupying the property:
Tenant application
References and all checks of all tenants over the age of 18 years
Tenancy agreement
Deposit
Collection of rent
Lettings fee and services:
Description
Let Only Tenant Find
Letting and Rent collection
Letting and Full Management
Monthly % (Percentage)
6%
10%
• Professional photography
• Preparation of marketing materials
Conduct accompanied viewing
Complete Pre-let "Right to Rent" checks
Checks of Smoke and Carbon Monoxide alarms
Referencing of prospective tenants
Preparation of Tenancy Agreement
Reading and transfer of Utilities and advising Suppliers at the start of a new tenancy
Liaise with Deposit Protection Service
Follow-up "Right to Rent" checks
Rent Collection & Disbursement
Provide regular statements
Access to Landlord portal
Proactively chase rent arrears
Access to Report and Repairs
Routine Property Inspection
Arranging Property Maintenance
Payments and accounting for outgoings
Arrange release of the deposit
Arrange for the repairs for any damages
Gas Safety certificates
£
£
£
£ Additional fees apply
If you require any further information please do not hesitate to contact us.